Train the Trainer Courses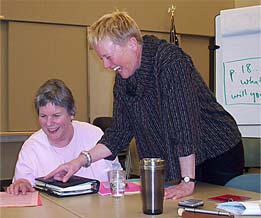 Guila Coaching
Deliv­er­ing effec­tive train­ing isn't as easy as it might seem.  Our mis­sion is to speed up the train­ing devel­op­ment process for you and make the design process easy.
Tra­di­tional Train­ing Options Miss the Mark
Typ­i­cally, orga­ni­za­tions know of only three options for increas­ing employee skills through training:
Hire instruc­tional designers
Hire out­side ven­dors to deliver canned ses­sions, or
Stum­ble along and hope that employ­ees fig­ure out how to design effec­tive train­ing on their own.
Each of these options has a down­side.  They are  labo­ri­ous, time con­sum­ing, or costly—and, what's worse, they often fail to address the organization's quickly-changing needs.
Learn essen­tial skills that will save your orga­ni­za­tion time and money!
80% of the effec­tive­ness of instruc­tion and pre­sen­ta­tion is due to the way it is designed.  Guila Muir & Asso­ciates approaches train­ing by deliv­er­ing a proven method to build effec­tive train­ing from the inside out.  Our work­shops speed up the train­ing devel­op­ment process and save your orga­ni­za­tion the time and expense of tra­di­tional instruc­tional design. Trainees in our ses­sions learn an agile process they can use over and over again to pro­duce train­ing ses­sions that truly impact work­place performance.
We're so con­fi­dent our approach works, we guar­an­tee it!
Learn more about our dynamic workshops:
Instruc­tional Design Made Easy (3 days)
Train the Trainer High­lights (One Day)
Train the Trainer and Pre­sen­ta­tion Skills (2 Days)
In-House Cur­ricu­lum Devel­op­ment Train­ing (KITE) (Vari­able duration)
"Great tips on how to design an effec­tive train­ing pro­gram. I left with a draft for a 2-day train­ing course!"
Peni Cenedella, Wash­ing­ton State Depart­ment of Employ­ment Security
Indi­vid­ual con­sul­ta­tion is some­times the best solu­tion. Guila pro­vides tailor-made coach­ing ses­sions both as "stand-alone" offer­ings and as follow-up rein­force­ment after work­shops. Con­tact us to find out more about indi­vid­ual consultation.