In-House Curriculum Development Training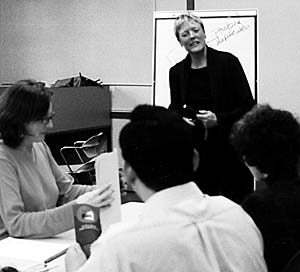 In-House Curriculum Development Training: KITE (Variable duration)
In-House Curriculum Development Training, also known as KITE ("Keep In-house Training Excellent") is a simplified curriculum development process that results in detailed Instructor Guides for sessions of any length.
KITE has two components, with the option of a third:
1. In a two-day Training Design workshop, subject matter experts (SMEs) learn to develop their own lively, interactive workshops. Only the number of participants limits the number of training sessions resulting from these two days.
2. Then, with Guila Muir's assistance, each SME transforms his or her workshop into a written curriculum. This ensures that the material remains consistent, no matter who the trainer is or where it is delivered.
3. Many organizations choose to include a Presentation Skills component, enhancing the trainers' ability to present the curriculum with confidence and authority in front of any group.
KITE benefits your organization if a different trainers in your organization must offer standardized, consistent training in several different locations. KITE captures and codifies training design into a document that is not trainer-dependent.
Contact us to find out more about how KITE works and if it is the right choice for your organization.