Four Gender-Specific Presentation Blunders
Posted in
Presentation Skills
on Sunday, January 8th, 2012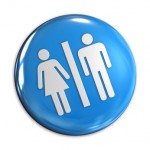 Is it true that men tend to make cer­tain types of blun­ders while pre­sent­ing, and women oth­ers? In my expe­ri­ence, yes. I have worked with hun­dreds of indi­vid­u­als and single-sex groups, and notice recur­ring, gender-specific behav­iors that sab­o­tage presentations.
In the inter­est of advanc­ing fur­ther research, I sub­mit these very com­mon blun­ders, and give you the tools you need to pre­vent them.
Most Com­mon Pre­sen­ta­tion Skills Blun­ders: MEN
1.  Guys, you wan­der aim­lessly too much. Move with pur­pose ONLY. Pac­ing or shuf­fling weaken your deliv­ery and your message.
The best rea­sons to move are:
When you are chang­ing a subject.
When you are chang­ing an emotion.
When you've been in one place for the entire time.
Stand and deliver, then move.
2.  Get those thumbs out of your pock­ets or your waist­band. This pos­ture is called "gen­i­tal fram­ing." Do you really want to express "check me out, I am a vir­ile male" dur­ing a high-stakes finan­cial talk? (Or maybe you do…What do I know?)
Instead, use your hands and arms in a nat­ural way to empha­size your words. You can even just let your arms hang down at your sides (now that feels weird, doesn't it?)  Just don't tuck your hands away…anywhere.
Most Com­mon Pre­sen­ta­tion Skills Blun­ders: WOMEN
1.  Read the fol­low­ing. Is Mary credible?
"Hello. My name is Mary Smith? I am the com­mu­ni­ca­tions direc­tor? And I've worked here 15 years?"
I'll bet your answer is NO.  Mary just sab­o­taged her­self, big-time. Even if she is most cred­i­ble per­son in the com­pany, she now has to earn back the cred­i­bil­ity she lost through the upward inflec­tion at the end of her sentences.
Pro­fes­sor Yia Hei Kao of Clare­mont Uni­ver­sity is just one of many researchers and lin­guists who have found that when women end their sen­tences with an  upward lilt, they project uncer­tainty, ten­ta­tive­ness, and the desire to please others.
Women, is THAT how you want to come across? We no longer need per­mis­sion to speak, so why act as if we do?
Prac­tice intro­duc­ing your­self. Lis­ten for the upward swing at the end of the sen­tences. Enlist some­one else to help if you are not sure what you're hear­ing. End your sen­tences with a down­ward inflec­tion. This "fix" is one of the most impor­tant things you can do to increase your cred­i­bil­ity as a speaker.
2. Stand evenly on both feet. Don't heap your weight onto one hip. This "cheer­leader" stance makes you look like you're pos­ing for a photo shoot. To come across as grounded and pow­er­ful, BE grounded from the floor up.
OK, men and women. I hope these tips help you. Share them with those of the same and the oppo­site gen­der. Let's all work towards a world full of improved presentations!
Related posts:
Print This Post
blog comments powered by

Disqus