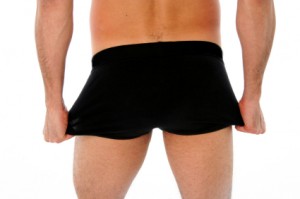 The Prob­lem With Sit­ting
Do you often sit while pre­sent­ing? You can lose a great deal of speak­ing power that way, for the fol­low­ing reasons:
1. Half your body, with its elo­quent capac­ity for lan­guage, is hid­den.
2. Often, your hands are trapped under the table.
3. Your inter­nal organs are more tightly con­strained, espe­cially if you slump, which is easy to do while sitting.
I spend a lot of time encour­ag­ing clients to stand and present. Stand­ing causes an imme­di­ate improve­ment: My clients' voices grow more robust and con­fi­dent, they use ges­tures to nat­u­rally empha­size points, and they look and sound more cred­i­ble. This improve­ment was so uni­ver­sal, I even wrote an arti­cle about it.
But What If You Must Sit?
Orga­ni­za­tional norms and expec­ta­tions (or just a tiny room,) may require that you sit while deliv­er­ing a pre­sen­ta­tion. Here's how to present with con­fi­dence and author­ity, even while sitting:
• Scoot your hips toward the edge of the chair (about halfway up). Remove your back from any sup­port.
• Roll your shoul­ders down your back, open­ing your chest.
• Feel your sitz bones, (the bones at the very bot­tom ends of each side of your pelvis) sit­ting squarely on the chair. These form your anchor.
• Ensure that your feet lie par­al­lel to each other, flat on the floor, fac­ing for­ward. Your knees should be bent.
• Place your hands on top of the table. Most speak­ers feel com­fort­able rest­ing the outer sides of their hands (the "pinkie" side) on the table. Relax them so that each hand curves gen­tly.
• Make sure that your hands remain shoulder-distance apart. Do not close them in front of your body. You may pick them up off the table and use them for empha­sis, if doing so feels nat­ural. Oth­er­wise, just relax your hands and allow them to move about in nat­ural ways—so long as they don't fold up in front of you.
There-you've got it. By sit­ting this way, you now "own the real estate." Whether you are pre­sent­ing to staff or being inter­viewed for a job, you look and sound strong, approach­able, and confident.
Learn about Guila Muir's Pre­sen­ta­tion Skills Workshops.
Guila Muir is a pre­miere trainer of train­ers, facil­i­ta­tors, and pre­sen­ters. Since 1994, she has helped thou­sands of pro­fes­sion­als improve their train­ing, facil­i­ta­tion, and pre­sen­ta­tion skills. Find out how she can help trans­form you from a bor­ing expert to a great pre­sen­ter: www.guilamuir.com