Posts Tagged 'Train the trainer'
Friday, November 26th, 2010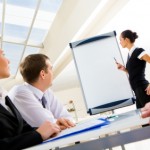 by Guila Muir
info@guilamuir.com
I was excited to find John Medina's great book, Brain Rules, in the San Fran­cisco air­port book­store in 2009. The book is incred­i­bly read­able and valu­able to train­ers and pre­sen­ters. I was thrilled most of all to see that Med­ina pro­vides research to sup­port 3 rules I've shared in my Train the Trainer classes for years.
1. Pro­vide the gist, the core con­cept, first.

Ver­bal­ize and show your session's pur­pose within the first few min­utes of your pre­sen­ta­tion or train­ing. Med­ina claims that you will see a 40% improve­ment in under­stand­ing if you pro­vide gen­eral con­cepts first.
2. Give an overview of the class at the begin­ning, and sprin­kle lib­eral rep­e­ti­tions of 'where we are now' through­out.

Pro­vide clear tran­si­tions and sum­maries through­out your ses­sion. Clearly and repet­i­tively explain linkages.
3. Bait the hook.

Every ten min­utes, Med­ina gives his audi­ences a break from the fire­hose of infor­ma­tion by send­ing "emo­tion­ally com­pe­tent stim­uli" (yet another word for 'hook.') A hook can be a sur­pris­ing fact, anec­dote, or ques­tion, and must must trig­ger an emo­tion: anx­i­ety, laugh­ter, nos­tal­gia, etc. It must also be rel­e­vant. Use hooks at the begin­ning of each module.
Research sug­gests that by using these skills, you will pre­vent your audi­ences from "check­ing out" dur­ing your pre­sen­ta­tion.  Not only that, but these 3 tips will enable  you to enjoy pre­sent­ing more. Have fun!
Learn about Train­ing Devel­op­ment. Read more arti­cles about train­ing.
Guila Muir has helped thou­sands of pro­fes­sion­als improve their train­ing, facil­i­ta­tion, and pre­sen­ta­tion skills. Find out how she can help trans­form you from a bor­ing expert to a great pre­sen­ter: www.guilamuir.com
© 2010 Guila Muir. All rights reserved.
You may make copies of this arti­cle and dis­trib­ute in any media so long as you change noth­ing, credit the author, and include this copy­right notice and web address.