How to Facilitate Online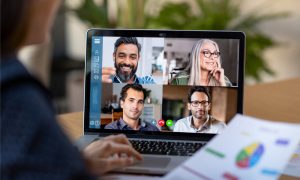 Leading online meetings presents unique challenges and demands specific skills. This live (and lively) online learning experience enables you to:
Model stellar solutions to online challenges.
Create outcome-based agendas to keep your meetings on track.
Practice five specific, essential facilitation skills to ensure inclusion and participation.
Group over 10 people? We schedule when YOU want the session.
Time: Two hours.
The course includes a downloadable workbook to use during the course and as a resource afterward. AND…it's super-fun, participatory, and practical.
Note: This course requires a basic familiarity with Zoom. It will improve your ability to run online meetings by enhancing your process and facilitation skills. It is not a Zoom class.
Upcoming Small Group Sessions (maximum 6 participants each)
Tuesday, August 18th 2:00 pm-4:00 pm PT
Tuesday, September 8th 2:00 pm-4:00 pm PT
Wednesday, September 23 10 am-12:00 pm PT
Let us know which session you'd like to join when you register below.
Special Rates until January 1st, 2021
The price is for each unique participant using their own device (desktop computer preferred).
Payment can also be made via check, credit card, Venmo, or Zelle. You can buy the session now and schedule it later, or contact Guila before scheduling. Either way, she will customize this live learning experience to fit your needs.
Please contact Guila or call 206-725-1994.
This course was informative and full of valuable content from the beginning to the end!
Cyrus White, SCG Nonprofits 2020
Well worth the cost in time and money. Solid and applicable to my work. Will recommend to colleagues.
Michael Fraidenburg, The Cooperation Company 2020