The Kite: Creating Training Sessions that Soar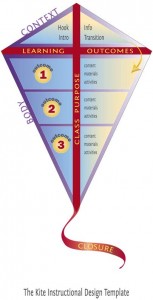 The Kite: Creating Training Sessions that Soar is our flagship course. Based in solid adult education research, it provides the essential skills to develop effective training sessions. Throughout the course, participants apply the skills they are learning to a topic of their choice.
By the end of the course, participants have developed and delivered a training session they can present almost immediately in the workplace. They have also practiced skills to enable them to develop active, effective training sessions for the rest of their professional careers.
Overview
1-3-day session
Takes place at a site of your choosing.
Provides tools to make training stick–so that learning results in action.
Great for national and international teams wanting a standardized approach to training.
The most lively, research-based, and effective course on the market.
By the end of this course, participants will be able to:
Describe how adults learn best.
Hook their audience's interest and engagement in the first 30 seconds.
Develop and model 15 exciting, effective, interactive learning activities that make content come alive.
Design a session closure to reinforce learning and act as the "runway" into real-world skill application.
Deliver a draft training session in their areas of expertise using best practices from the fields of adult education, instructional design, and current brain research.
Deliver and accept constructive feedback on all aspects of their newly-created training session.
IThe Kite Method: Train the Trainer for Subject Matter Experts will enable your organization to train faster, cheaper, and more effectively…over and over again.
Guila was the best money our Trainer Development program has EVER spent on the development of our Trainers and ID's. She not only taught the material, she lived it, demonstrated it and made it come alive for our staff. To a person (45 people to be exact, ranging in experience from < 1 year to < 30 years) our entire staff still raves about the experience! I would highly recommend Guila and her Trainer Development Course."
–Scott Wuerch, Training and Quality Manager/Performance Improvement, GSI Commerce.
Contact Guila Muir to find out more about this course. She can customize any workshop to suit your organization's unique needs.
Individual consultation is sometimes the best solution. Guila provides tailor-made coaching sessions both as "stand-alone" offerings and as follow-up reinforcement after workshops. Contact us to find out more about individual consultation.

Links to other Train the Trainer Courses