The Kite Method: Instructional Design That Soars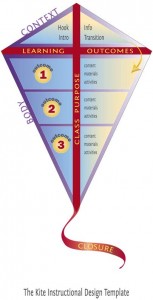 The Kite Method: Instruc­tional Design That Soars is our flag­ship course. Based in solid adult edu­ca­tion research, it pro­vides the essen­tial skills to develop effec­tive train­ing ses­sions. Through­out the course, par­tic­i­pants apply the skills they are learn­ing to a topic of their choice. By the end of the course, they have devel­oped and deliv­ered a train­ing ses­sion they can present almost imme­di­ately in the workplace.
We're so con­fi­dent this class works, we guar­an­tee it!
Overview
2-day ses­sion
Takes place at a site of your choosing.
Great for national and inter­na­tional teams want­ing a stan­dard­ized approach to training.
The most lively, research-based, and effec­tive course on the market.
By the end of this course, par­tic­i­pants will be able to:
Describe how adults learn best and how to address diverse learn­ing styles in train­ing sessions.
Hook their audience's inter­est and engage­ment in the first 30 seconds.
Develop and model 15 excit­ing, effec­tive, inter­ac­tive learn­ing activ­i­ties that make con­tent come alive.
Design a ses­sion clo­sure to rein­force learn­ing and act as the "run­way" into real-world skill application.
Deliver a draft train­ing ses­sion in their areas of exper­tise using best prac­tices from the fields of adult edu­ca­tion, instruc­tional design, and cur­rent brain research.
Deliver and accept con­struc­tive feed­back on all aspects of their newly-created train­ing session.
Instruc­tional Design That Soars will enable your orga­ni­za­tion to train faster, cheaper, and more effectively…over and over again.
Guila was the best money our Trainer Devel­op­ment pro­gram has EVER spent on the devel­op­ment of our Train­ers and ID's. She not only taught the mate­r­ial, she lived it, demon­strated it and made it come alive for our staff. To a per­son (45 peo­ple to be exact, rang­ing in expe­ri­ence from < 1 year to < 30 years) our entire staff still raves about the expe­ri­ence! I would highly rec­om­mend Guila and her Trainer Devel­op­ment Course."
–Scott Wuerch, Train­ing and Qual­ity Manager/Performance Improve­ment, GSI Commerce.
Con­tact Guila Muir to find out more about this course. She can cus­tomize any work­shop to suit your organization's unique needs.
Indi­vid­ual con­sul­ta­tion is some­times the best solu­tion. Guila pro­vides tailor-made coach­ing ses­sions both as "stand-alone" offer­ings and as follow-up rein­force­ment after work­shops. Con­tact us to find out more about indi­vid­ual con­sul­ta­tion.

Links to other Train the Trainer Courses:
Train the Trainer and Pre­sen­ta­tion Skills
In-House Cur­ricu­lum Devel­op­ment (KITE)