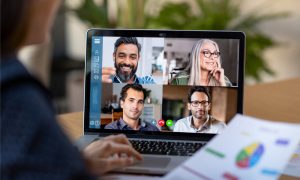 What's the REAL secret to effective online meetings? An outcome-based agenda.
An outcome-based agenda is an action plan. It states "what will have changed" by the end of the meeting. All agenda items should lead toward achieving those changes.
A Plan, Not a Grocery List
If you're thinking that "something changing" seems like a big leap for a 30-minute meeting, consider these outcome stems:
By the end of this meeting, we will have discussed…
By the end of this meeting, we will have brainstormed…
By the end of this meeting, we will have decided…
Take a look at the differences in complexity of each outcome above. Typically, the more complex, (such as #3), the longer a meeting you will need. *
If you cannot think of anything that will change, do not hold the meeting. A meeting without an outcome is just a waste of time.
The Future Perfect Tense
Note that outcomes use a verb with an "ed" on the end. Using the future perfect tense makes it obvious that you have a clear end in mind.
Take the time to figure out exactly what is achievable in the time allotted. Then state that using the future perfect form of the verb: "By the end of this meeting, we will have ________ed)…" Magically, by stating your outcome this way, the meeting gains a much better chance at success.
By using an outcome based agenda, your meetings will become shorter, less painful, and more productive.

* By the way, the outcome is NOT a pre-determined "solution". (For example, consider: "By the end of this meeting, you will have come up with the answer I've already decided.") The group must feel ownership for the outcome they achieve.
Want to improve your facilitation skills? Try our "Leading Stellar Online Meetings" workshop. Contact Guila today.