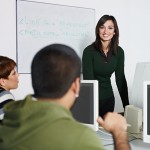 Great trainers must be great presenters as well. I believe that participants learn most from highly active classes that imbed great design and content. However, I also know that the trainer's presentation skills can help or hinder learning.
What are Platform Skills?
Platform skills are presentation behaviors that a trainer uses to transmit content effectively. Not to be confused with skills that guarantee participation (which, in general, only trainers use), both presenters and trainers must demonstrate excellent platform skills to get their messages across. Platform skills is one exciting arena where training and presentation cross paths.
Five Top Platform Skills for Trainers
Prepare for your next training session by making a commitment to the behaviors below. Then, ask a peer to observe you and let you know how you did.
I compiled these criteria by researching some of the best resources in the training field, and have listed them in no particular order.
The trainer:
Clearly communicates the session's topic, goal, and relevance to the participants at the beginning of the session.
Effectively manages nervousness so that it does not distract the participants.
Uses humor, analogies, examples, metaphors, stories, and delivery methods other than lecture or PowerPoint.
Faces the participants most of the time in a "full-frontal" body position.
Summarizes and closes the class with energy.
Want more tips to improve your trainings? Learn how Guila Muir's Instructional Design Workshop can help you to create powerful, effective training sessions.
Learn how to present with pizzazz using the Kite Method with Guila's Instructional Design book.
Guila Muir, a premiere trainer of trainers, facilitators, and presenters, has helped thousands of professionals improve their training, facilitation, and presentation skills. Find out how she can help transform you into a great trainer.